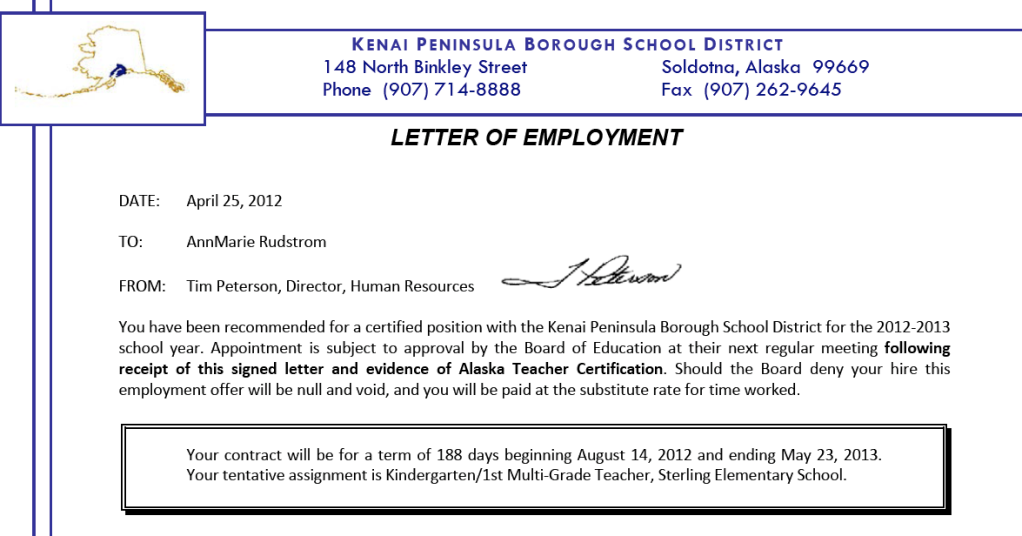 Deciding to move out of Brevig Mission and away from the security of having a job took a leap of faith. I had to make a decision about my contract with Bering Strait School District by mid-February. There is really no way to have secured a job by then but I declined the contract and hoped for the best. I wavered between confidence that I would get a job because of my many years of experience and having doubt that there would be a position for me. But C.O. and I knew that either way, God had a plan and would care for us as He always has.
Fortunately I didn't have to wonder too long, in April I landed a job on the Kenai Peninsula. This was the only district I applied with since we are certain this is where we want to live. I am so thankful to have found a job this early in the hiring season. Many schools do not do their hiring for another month or two or three. It has given us peace of mind about moving and some direction for where to buy a home.
I will be working at
Sterling Elementary School
in the community of Sterling about 12 miles East of Soldotna and 150 miles south of Anchorage. It is on the road system and seems like a neat rural community with beautiful surroundings. You can see some photos
here
on Google Images, doesn't it look sweet? It reminds me of Minnesota but with mountains peeking up around every corner.
I was hired as a Kindergarten/1st grade teacher. I might teach first grade, I might teach kindergarten or possibly a combination of the two. It depends on enrollment. I have experience with both grades which helped make me a perfect candidate for the job.
I'm pretty excited to work there. The principal has been amazing to talk with and the school has a great reputation. It has about 160 students and is a NASA Explorer School. I'm not sure what the NASA thing is all about but it sounds cool!
My excitement has burst for the moment as I have a huge stack of paperwork to fill out for the new job. But this too shall pass and I will survive filling in my name and social security number a hundred times over. I can't wait to meet my new students and coworkers this August.
~AnnMarie